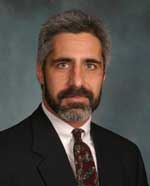 Martin J. Baroff, Esquire
Phone: (603) 647-4662
E-Mail: This email address is being protected from spambots. You need JavaScript enabled to view it.
Admitted to practice in Arizona in 1987, New Hampshire in 1989 and Massachusetts in 2014
Honors and Distinctions:
Marty Baroff has been named to the Best Lawyers© List multiple times for real estate and commercial finance, and was named Best Lawyers© 2014 Real Estate "Lawyer of the Year" in Manchester.
Areas of Practice:
Commercial Lending
Workouts/Foreclosures
Business Law
Contract Law
Real Estate Law
Legal Experience:
Marty Baroff concentrates his practice in the areas of commercial lending/workouts/foreclosures and in the purchase and sale of commercial property, and general corporate, LLC, partnership and business law issues.
As a commercial loan lawyer... As a leading commercial bank attorney in New Hampshire, Marty has represented numerous lenders in thousands of loan transactions, including the following types of loans:
Construction loans, permanent loans, equity participation and contingent interest loans, leasehold financing, secured revolving lines of credit, loans with collateral in multiple states and lines of credit secured by multiple properties.
United States Post Office construction and permanent loans across the United States.
Loan assumptions, loan modifications, and loan restructures.
Loan participations, sale of loans, subordinations and intercreditor agreements.
Advice regarding distressed loans, forbearance and workout transactions and deeds in lieu of foreclosure.
Commercial foreclosures.
Marty's practice has involved a wide variety of properties including regional shopping malls, neighborhood centers and strip centers, industrial parks, office buildings, recreational properties, golf courses, mobile home parks, apartment buildings, residential subdivisions and health care centers.
Public Interest Experience:
Director, Personnel Chair, Fundraising Chair, Rabbinic Search Committee Chair of Temple Adath Yeshurun, Manchester New Hampshire.
Recipient of Shem Tov ("Good Name") Award, Jewish Federation of Greater Manchester.
Director and President of the Board of Directors of Big Brothers/Big Sisters of Greater Manchester, Inc.
Director of The Jimmy Fund Executive Council of New Hampshire.
Steering Committee Member of Leadership Greater Manchester, New Hampshire
Pro Bono Legal Counsel for Make-A-Wish Foundation of New Hampshire
Education:
J.D. University of Chicago School of Law (1987)
B.A. Tufts University, Magna Cum Laude (1984)